Rad
Casco Skateboard Multi Skate Black
Impuestos incluidos
Envío excluido
Tiempo de entrega: 2-3 días laborables
*
Rad - Casco Skateboard, modelo Multi Skate, color Black
Pagos 100% seguros
Mostrar tabla de tallas
MÉTODOS DE PAGO
Puedes pagar con PayPal, tarjeta de crédito/débito, transferencia bancaria
ENVÍO GRATUITO
Envío gratis en Europa para pedidos de más de 300 €
DEVOLUCIONES GRATUITAS
Reembolso de los gastos de devolucion al pagar con PayPal - Más información
Rad Skateboards - Casco modelo Multi Skate, color Black
ESPECIFICACIONES:
- Talla adustable: No;
- Tipo de carcasa exterior: Pegados;
- Material del acolchado: Espuma;
- Certificaciones: EN 1078, CPSC 1203;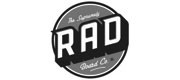 Ficha técnica
Color

Black

Color asociado

Negro

Modelo

Multi Skate

Año del modelo

2021

Sport

Skateboarding

Tipo de producto

Sports

Shipping label

Helmet package
Las referencias específicas
Skateboard Helmet Sizing Chart
Skateboard Helmet Sizing
An average head size for men is size 7 3/8" (using US sizing), 58 cm (using European sizing) or 7 1/8" (using UK sizing). The average head size for women is 7 1/4" (US sizing).
Properly measuring your head for a helmet
What size skateboard helmet you should buy is determined by the size of your head. It is important to note that each brands skateboard helmet size will vary; therefore, it is best to measure your head and refer to the sizing chart specific to each brand of helmet. In order to properly measure your head, follow these steps:
Wrap a soft tape measure around your forehead, just above your eyebrows and ears. Keep the tape measure level from the front to the back of your head. Your skateboard helmet should sit low on your forehead.
If you do not have a flexible tape measure, try marking a string and measuring it against a ruler.
If you are unable to measure your head, you can use your hat size to find the comparable skateboard helmet size in centimeters.
If the helmet is a gift or you cannot measure the skater's head, measure the inside of a current helmet or hat they wear.
Within each skateboard helmet product page there are specific measurements for each skate brand. Use that information, along with your head size, to determine your correct helmet size before placing your order. This will ensure that you receive the best fit.
Skateboard Helmets Fitting Guide
The most important thing to remember when you're skateboarding is your protective gear. To protect your head from injury, you should always wear a properly fitting skateboard helmet. You may think it's not cool to wear your helmet and pads, but now brands are conscious of your style and safety. Keep in mind that most skate parks require you to wear a helmet and pads at all times!
To protect your head, ensure that you have a properly measured your head for the perfect fitting skateboard helmet. All levels of experience, from beginner skateboarders to the pros should wear a skateboard helmet. Depending on the brand of helmet you choose, a properly fitting skateboard helmet should:
Have protective padding
Sit low on your forehead
Not shift or move when skateboarding
Skateboard helmets have soft foam liners or pads that conform to your head, providing you with the comfort and protection you need to absorb collisions and falls that may occur while skateboarding.
Skateboard helmets do not last forever. You should replace your helmet when it becomes too small or damaged from wear and tear.
If you still have questions about fit or sizing, please contact Customer Service.
ENVÍO GRATIS EN EUROPA (EU) PARA PEDIDOS SUPERIORES A 300 €
El importe de los gastos de envío está reflejado en el carrito, y va cambiando a medida que vas añadiendo o quitando productos. Si no estas registrado en la web, los gastos de envió se calculan en base a un envió en Italia. Recomendamos a los usuarios que se creen una cuenta con su direccion de entrega, para ver los precios finales, tanto de los productos como de los gastos de envío.
Los pedidos realizados antes de las 14h30 (horario de Italia, UTC +2/1) y que contienen productos en stock, se envian el mismo día. Proporcionaremos un enlace para rastrear su paquete en línea.
Los plazos de entrega dependen de la zona de entrega y pueden variar segun el transportista elegido.
Para más detalles ver Gastos de envío y plazos.
INFORMACIÓN SOBRE DEVOLUCIONES Y REEMBOLSOS
¿No es lo que esperabas? No hay ningún problema.
¿Demasiado grande?, ¿demasiado pequeño?, ¿demasiado…rojo? No te preocupes.
Puede devolver cualquier producto comprado dentro de los 30 días de la entrega.
Si paga con PayPal puede obtener un reembolso de los gastos de devolución. Para obtener más información y para participar en el programa click aquí.
Para más información haz click aquí para ir a nuestra página de devoluciones.
Productos relacionados
(13 tros productos de la misma categoría)