Slamm Scooters
Impugnature Monopattino Pro Swirl Bar Green 2 pz
Slamm Scooters - Impugnature Monopattino, modello Pro Swirl Bar, colore Green (2 pezzi)
METODI DI PAGAMENTO
Puoi pagare con PayPal, carta di credito/debito, bonifico bancario
CONSEGNA GRATUITA
Su tutti gli ordini a partire da 80€ - Scopri di più
RESI GRATUITI
Rimborso dei costi di restituzione con PayPal - Scopri di più
The Slamm Pro Swirl Bar Grips are comfortable and hard wearing, helping reduce riding impacts and giving added grip for maintaining control. Created by swirling two colours together for a stylish look without sacrificing performance or comfort. Supplied with our fantastic TPR impact resistant bar ends protecting not just the scooter but also your skate park! Available in 4 great colours and designed to fit all scooter models, the Pro Swirl grips are an essential customisation for any scooter rider.
SPECIFICATIONS:
- Mushroom style soft feel bar grips with impact resistant exclusive bar end design;
- 135mm Grip Length;
- Two-Tone Swirl Mix Single Injection grip;
- Single colour bar end;
- Material: TPU Grips / TPR Bar Ends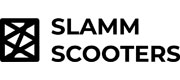 Scheda dati
Colore

Green

Colore principale

verde

Nome modello

Pro Swirl Bar

Tipo Prodotto

Sports
SPEDIZIONE GRATUITA IN ITALIA PER TUTTI GLI ORDINI SUPERIORI A 80 EURO
I pacchi sono solitamente spediti il giorno lavorativo successivo al ricevimento del pagamento ed inviati con corriere espresso.
A seguito dell'ordine ti invieremo un link per controllare online il percorso del tuo pacco.
La spedizione dei prodotti è effettuata tramite corriere UPS oppure DHL.
Per maggiori dettagli vedi Costi di spedizione e tempi di consegna.
INFORMAZIONI SU RESI E RIMBORSI
Qualcosa non è come te lo aspettavi? Non c'è problema.
Troppo grande, troppo piccolo, danneggiato o diverso dalla descrizione? Qualunque sia il motivo, non preoccuparti.
Puoi rendere qualsiasi prodotto acquistato entro 30 giorni dalla data di consegna.
Per maggiori informazioni clicca qui per visitare la nostra pagina sui resi.
Prodotti correlati
(6 altri prodotti nella stessa categoria)