Bones Bearings
Rodamientos Skateboard Super Reds
Impuestos incluidos
Envío excluido
Tiempo de entrega: 2-3 días laborables
*
Bones Bearings - Rodamientos Skateboard, modelo Super Reds
Pagos 100% seguros
MÉTODOS DE PAGO
Puedes pagar con PayPal, tarjeta de crédito/débito, transferencia bancaria
ENVÍO GRATUITO
Envío gratis en Europa para pedidos de más de 300 €
DEVOLUCIONES GRATUITAS
Reembolso de los gastos de devolucion al pagar con PayPal - Más información
Super REDS are designed from the ground up to be the best bearing on the market at this price point. What Super REDS are not is a REDS bearing with just better super finishing (surface polishing). Super REDS are a superior quality bearing, using higher quality steel races, better quality and grade balls, and a superior surface finish. The result is a bearing that is as fast as REDS but quieter, smoother, and longer lasting. Super REDS use a black shield and laser engraving to differentiate themselves from original REDS™.
Bones Bearings - Bones Super REDS Bearings Features:
- Higher quality steel races, better quality and grade balls, and a superior surface finish.
- Single, non-contact, removable rubber shield for easy cleaning and less friction.
- Pre-lubricated with Speed Cream™ racing lubricant.
- High speed nylon ball retainer for greater strength and speed.
- Skate Rated™ clearances, tolerances, materials and lubricant provide the best performance and durability possible.
Bones Bearings - Bones Super REDS Precision Bearings Contents:
- Set of 8 bearings
- Instructions
- Sticker
Note: All skateboard bearings are the same size. These bearings will fit any skateboard.
Sold in sets of 8 bearings to complete four skateboard wheels for one skateboard, two bearings mount each skateboard wheel to its truck axle. The industry standard size is 608 with an 8 mm bore, a 22 mm outer diameter and a width of 7mm.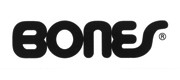 Ficha técnica
Color asociado

Plateado

Modelo

Super Reds

Sport

Skateboarding

Material

Acero

Tipo de producto

Sports

Shipping label

Small package
What size skateboard bearings do I need for my skateboard wheels?
All skateboard bearings are the same size, so you don't need to worry about size when selecting bearings. However, the ABEC rating denotes the quality of materials and precision used in manufacturing the bearing. Higher rated bearings are higher quality.
Skateboard bearings are used to mount the skateboard wheels to the skateboard axle. Skateboard bearings are all the same size and will fit any skateboard wheel that Xtreme Skate Shop sells. While they do not vary in size, they do vary in quality. The rule of thumb tends to be that the more expensive the skateboard bearings, the higher the quality. When you choose to purchase inexpensive bearings, they tend to be made with cheaper materials, so when you come to a sudden stop, your board may not perform as well. The more expensive skateboard bearings are actually made with better sealing, more inner ball bearings and higher-quality metals.
ABEC ratings
Most bearings are measured by an ABEC rating. The higher the ABEC rating, the more accurate and precise the bearing will be. This rating system includes grades 1, 3, 5, 7 and 9. The closer you get to an ABEC 9 rating, the faster and less friction you will have when skateboarding.
ABEC 1: skateboard bearings tend to be the least expensive, most crude and the least precise.
ABEC 3: skateboard bearings tend to be inexpensive and do not roll very smoothly or fast.
ABEC 5: skateboard bearings are the norm in skateboarding. With this rating you get a good amount of speed at an average cost.
ABEC 7: skateboard bearings are very fast and smooth and tend to be slightly more expensive.
ABEC 9 and higher skateboard bearings are extremely fast and are used more for downhill skating and skaters that want to go insanely fast.
Many companies do not use the ABEC rating scale, such as Bones Bearnings. Bones Bearnings use their own rating system known as Skate Rated. These bearings do not follow the ABEC ratings because they are superior in quality and the ABEC rating ignores many quality factors in which Bones Bearnings prides itself.
If you still have questions about skateboard bearing ratings, please contact Customer Service.
ENVÍO GRATIS EN EUROPA (EU) PARA PEDIDOS SUPERIORES A 300 €
El importe de los gastos de envío está reflejado en el carrito, y va cambiando a medida que vas añadiendo o quitando productos. Si no estas registrado en la web, los gastos de envió se calculan en base a un envió en Italia. Recomendamos a los usuarios que se creen una cuenta con su direccion de entrega, para ver los precios finales, tanto de los productos como de los gastos de envío.
Los pedidos realizados antes de las 14h30 (horario de Italia, UTC +2/1) y que contienen productos en stock, se envian el mismo día. Proporcionaremos un enlace para rastrear su paquete en línea.
Los plazos de entrega dependen de la zona de entrega y pueden variar segun el transportista elegido.
Para más detalles ver Gastos de envío y plazos.
INFORMACIÓN SOBRE DEVOLUCIONES Y REEMBOLSOS
¿No es lo que esperabas? No hay ningún problema.
¿Demasiado grande?, ¿demasiado pequeño?, ¿demasiado…rojo? No te preocupes.
Puede devolver cualquier producto comprado dentro de los 30 días de la entrega.
Si paga con PayPal puede obtener un reembolso de los gastos de devolución. Para obtener más información y para participar en el programa click aquí.
Para más información haz click aquí para ir a nuestra página de devoluciones.
Productos relacionados
(15 tros productos de la misma categoría)