AO Scooters
Maven 2020 Stunt Scooter Red Gloss
AO Scooters - Stunt Scooter, model Maven 2020, colour Red Gloss
100% secure payments
PAYMENT OPTIONS
You can pay by PayPal, credit/debit card, wire transfer
FREE DELIVERY
Free shipping in Europe on Orders Over € 300 – Find out more
FREE RETURN
Return shipping refunded when you use PayPal on our site – Find out more
AO Scooters - Stunt Scooter model Maven 2020, color Red Gloss
Grab yourself a Maven 2020 complete stunt scooter and progress your skill level

From AO scooters comes the latest edition of their popular Maven complete stunt scooter. This year it has been upgraded with IHC compression, a regular-sized bar, and a sweet selection of killer colour combinations for you to pick from.

Step up from an entry-level to this dialled in beast

- Rookie riders will easily feel right at home with the dimensions being similar to beginner setups.
- A strong steel bar will ensure that you don't snap it after hitting your first front scoot whip.
- Ride the Maven with pegs or without, the peg-cut shape is ready for both.
SPECIFICATIONS:
- Total height: 85cm;
- Wheel Diameter: 110mm;
- Deck design: One-piece;
- Deck length: 49,5cm;
- Deck width: 11,7cm;
- Dropout Shape: Peg-cut;
- Material: Aluminium;
- Weight: 3,8Kg;
- Headset type: Integrated 1 1/8";
- Fork type: Threadless;
- Fork design: One-piece;
- Compression type: IHC - Internal Hidden Compression;
- Bar material: Chromoly Steel;
- Bar height: 60cm;
- Bar width: 51,4cm;
- Bar outer diameter: 32mm (Regular);
- Bar inner diameter: 28mm;
- Scooter bar shape: T-Shaped;
- Backsweep: Yes;
- Clamp size: Double;
- Wheel profile: Round;
- Wheel hub width: 24mm;
- Core material: Aluminium;
- Core design: spoked;
- Bearing precision: Not specified;
- Axle diameter: 8mm;
- Brake type: Flex Fender;
- Assembly: Partly assembled;

Product code: AOMAVEN/GRD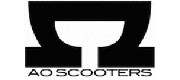 Data sheet
Colour

Red Gloss

Colour map

Red

Model name

Maven 2020

Material composition

alluminio

Material type

aluminum

Wheels diameter

110mm

Stunt scooter total height

85cm

Product Type

Sports

Shipping label

Scooter package
FREE DELIVERY IN EUROPE (EU) ON ALL ORDERS ABOVE 300,00 EUROS
The amount of shipping costs is reflected in the cart, and it changes as you add or remove products. If you are not registered on the web site, shipping costs are calculated based on a standard shipment in Italy. We recommend that users create an account with their delivery address, to see the final prices of both the products and the shipping costs.
Orders placed before 12:00 a.m. (UTC +1) and containing products in stock, are shipped the same day. We will provide you with a link to track your package online.
Delivery times depend on the delivery area and may vary depending on the carrier chosen.
For more details see Shipping costs and delivery times.
INFORMATION ABOUT RETURNS AND REFUNDS
If you don't love it, return it.
You can return any purchased product within 30 days of delivery.
If you pay with PayPal you can get a refund of the return costs. For more information and to join the program click here.
For more information click here to head to our Returns Page.
SCOOTER SIZE GUIDE
To get the most out of your scooter it is best to follow these general rules for sizing;
- When standing on the floor next to the scooter the top of the scooter bars should be around waist height.
- When reaching down to the handlebar when you are stood on the scooter your elbows should have a slight bend and NOT be straight.
This will give the rider the most control for turning, pushing and tricks.

*The scooter guide table matches up the bar height and the rider height to give you a good reference when purchasing a complete scooter.
| | | |
| --- | --- | --- |
| Rider Height | Approx. Age | Recommended Scooter Height |
| 95-112 cm | 3-5 yr | Under 70 cm |
| 112-126 cm | 5-7 yr | 60-75 cm |
| 126-138 cm | 7-9 yr | 65-79 cm |
| 138-149 cm | 9-11 yr | 75-80 cm |
| 149-160 cm | 11-13 yr | 75-85 cm |
| 160-172 cm | 13-15 yr | 78-85 cm |
| Over 172 cm | 15+ yr | 79+ cm |
*This guide is only for reference and it may differ from riders personal preferences but should be taken into consideration when purchasing your first scooter.
Related products
(16 other products in the same category)