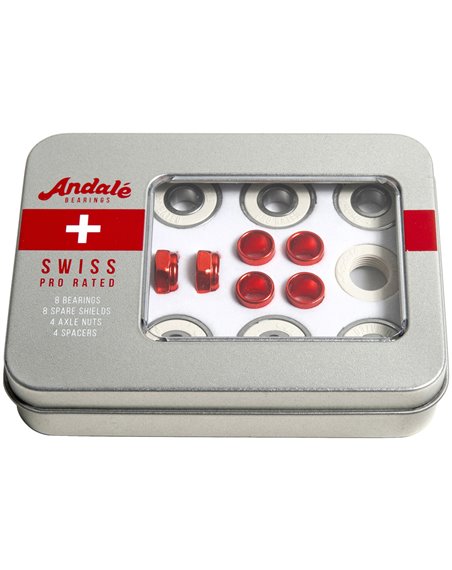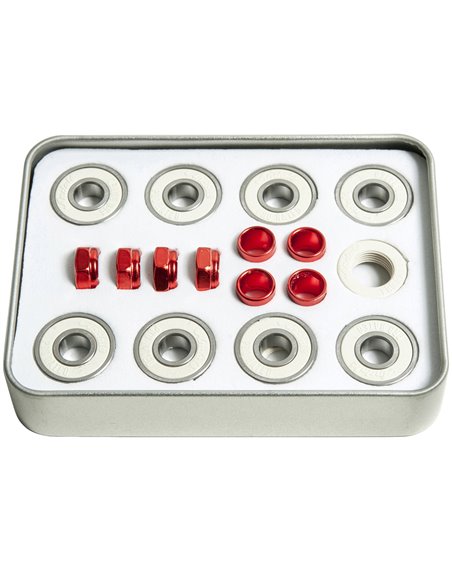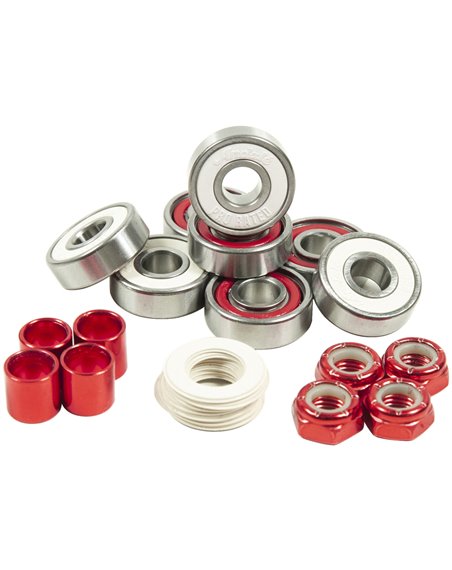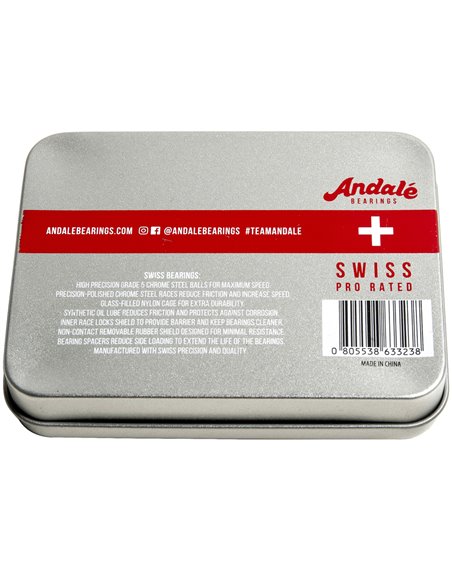 Swiss Tin Box Skateboard Bearings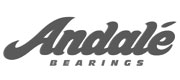 Andalé - Skateboard Bearings, model Swiss Tin Box, colour White/Red
Andalé Swiss Skateboard Bearings
The Swiss skateboard bearings from Andalé in a Tin Box packaging are the ideal choice for skaters looking for maximum speed and performance. These bearings feature high-precision grade 5 chrome steel balls that ensure maximum speed. Precision-polished chrome steel races reduce friction and increase speed. The glass-filled nylon cage provides extra durability, while synthetic oil lubrication reduces friction and protects against corrosion. The inner race lock shield provides a barrier and keeps the bearings cleaner. The non-contact removable rubber shield is designed for minimal resistance, while the bearing spacers reduce side loading to extend their life. These bearings are manufactured with Swiss precision and quality.
The package includes:
8 Andalé Pro Rated Bearings
8 Spare Shields
4 Axle Nuts
4 Spacers
All skateboard bearings are of the same size and fit any skateboard. The Swiss skateboard bearings from Andalé are sold in sets of 8, enough to complete the four wheels of the skateboard with two bearings per wheel. The standard size is 608 with an 8mm bore, a 22mm outer diameter, and a width of 7mm.
SPECIFICATIONS:
- Bearing precision: Skate-tested;
- Bearing type: Closed;
- Spacers: Included;
- Rubber shield: Yes;
- Lubricant: Oil;
- Axle diameter: 8mm;
- Bearing size: 608;
- Pieces per pack: 8;

Manufacturer Part Number: 11246050
Colour

White/Red

Colour map

White

Model name

Swiss Tin Box

Sport

Skateboarding

Bearing precision

Swiss

Bearings type

Semi-closed

Bearing closure type

608 RS: 1 removable rubber seal (non-contact)

Spacers

Included

Lubricant

Oil

Product Type

Sports

Shipping label

Small package
FREE DELIVERY IN EUROPE (EU) ON ALL ORDERS ABOVE 300,00 EUROS
The amount of shipping costs is reflected in the cart, and it changes as you add or remove products. If you are not registered on the web site, shipping costs are calculated based on a standard shipment in Italy. We recommend that users create an account with their delivery address, to see the final prices of both the products and the shipping costs.
Orders placed before 12:00 a.m. (UTC +1) and containing products in stock, are shipped the same day. We will provide you with a link to track your package online.
Delivery times depend on the delivery area and may vary depending on the carrier chosen.
For more details see Shipping costs and delivery times.
INFORMATION ABOUT RETURNS AND REFUNDS
If you don't love it, return it.
You can return any purchased product within 30 days of delivery.
For more information click here to head to our Returns Page.