Independent
Genuine Parts 1.50" Phillips Skateboard Hardware Set Black
Independent - Skateboard Hardware Set, model Genuine Parts 1.50" Phillips, colour Black
100% secure payments
PAYMENT OPTIONS
You can pay by PayPal, credit/debit card, wire transfer
FREE DELIVERY
Free shipping in Europe on Orders Over € 300 – Find out more
FREE RETURN
Return shipping refunded when you use PayPal on our site – Find out more
Genuine Parts Cross bolts feature full size cross logo heads and are specified to the highest standards with extended unthreaded shafts for minimal board damage and nylon lock nuts.
Guaranteed not to break.
Each set contains 8 black bolts & nuts, decal, & recyclable packaging.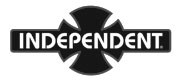 Data sheet
Colour

Black

Colour map

Black

Model name

Genuine Parts 1.50" Phillips

Sport

Skateboarding

Product Type

Sports
Skateboard Hardware Proper Size
Skateboard hardware, also known as mounting hardware, is used to connect the skateboard trucks to the skateboard deck. Skateboard hardware refers to the nuts, bolts, locknuts and screws used when building a skateboard. The screws can have an Allen or Phillips head. Skateboard hardware come in many different lengths, and often include one different color bolt so that the rider can mark the nose of the skateboard.
Each skateboard hardware set includes 8 bolts and 8 locknuts. The set will be used to attach the skateboard truck to the skateboard deck. If you are looking to buy bolts and locknuts individually, you can certainly purchase them that way as well by searching our skateboard hardware inventory from low to high price.
What size hardware do I need to put together my skateboard?
7/8" to 1" hardware: no riser.
1" to 1 1/8" hardware: 1/8" riser.
1 1/4" hardware: 1/4" riser.
1 1/2" hardware: 1/2" riser.
If you still have questions about skateboard hardware sizing, please contact Customer Service.
FREE DELIVERY IN EUROPE (EU) ON ALL ORDERS ABOVE 300,00 EUROS
Packages are generally dispatched within 24 hours after receipt of payment and are shipped via UPS express courier with tracking.
We will provide you with a link to track your package online.
Products will be shipped by UPS or DHL.
For more details see Shipping costs and delivery times.
INFORMATION ABOUT RETURNS AND REFUNDS
If you don't love it, return it.
You can return any purchased product within 30 days of delivery.
For more information click here to head to our returns page.
Related products
(16 other products in the same category)