MiD 139mm Skateboard Trucks pack of 2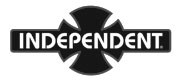 Independent - Skateboard Trucks, model MiD 139mm, colour Polished (pack of 2)
Independent - Skateboard Trucks model MiD 139mm, color Polished
New Independent MiD trucks feature a lower profile hanger for optimal contact point angle on your nose and tail for flip tricks, ledges, and all-around street skating with a recommended wheel size of 53mm and under.
The newly designed and first ever Independent inverted kingpin can be used with either a 5.5mm Allen key or standard 9/16" hex wrench. The innovative new Shaft Nut in the baseplate creates a rigid and durable solution to lateral movement found in most inverted kingpin designs and increases adjustability.
The new MiD is 52mm tall and built on Independent's legendary geometry with full size cushions for maximum turning action and comes in 129, 139, 144, 149, 159 sizes.
The all new design includes new size designations underneath the hanger for easy identification.
52mm tall for optimal performance and wheel clearance with wheels 53mm and under.
A356 T6 Aluminum Hanger & Baseplate
The best lightweight aluminum alloy heat treated to T6 condition for strength, durability, and grind feel.
SCM435 Chromoly Steel Axle
Highest quality and durability available.
Inverted Grade 8 kingpin w/ 9/16" & 5.5mm Allen
Never break, never bend.
Steel Shaft Nut with nylon locking insert
159 model features 6 hole universal baseplate with old and new school mounting pattern.
Independent Trucks are Built to Grind and Guaranteed for Life.
SPECIFICATIONS:
- Hanger width: 5.50";
- Axle Width: 8.00";
- Deck width: 7.80" - 8.20";
- Truck type: Standard kingpin, Standard hanger;
- Bushings: 90A;
- Truck Profile Height: 52mm;
- Material: Chromoly Steel 4140, Aluminium;
- Mounting bolts: Not included;

Product code: 33132434
Colour

Polished

Colour map

Silver

Model name

MiD Standard

Sport

Skateboarding

Truck type

Inverted kingpin, Standard hanger

Truck height

Mid

Truck Profile Height (mm)

52mm

Axle truck

8.00"

Product Type

Sports

Shipping label

Backpack package
FREE DELIVERY IN EUROPE (EU) ON ALL ORDERS ABOVE 300,00 EUROS
The amount of shipping costs is reflected in the cart, and it changes as you add or remove products. If you are not registered on the web site, shipping costs are calculated based on a standard shipment in Italy. We recommend that users create an account with their delivery address, to see the final prices of both the products and the shipping costs.
Orders placed before 12:00 a.m. (UTC +1) and containing products in stock, are shipped the same day. We will provide you with a link to track your package online.
Delivery times depend on the delivery area and may vary depending on the carrier chosen.
For more details see Shipping costs and delivery times.
INFORMATION ABOUT RETURNS AND REFUNDS
Customers who bought this product also bought:
8 other products in the same category: