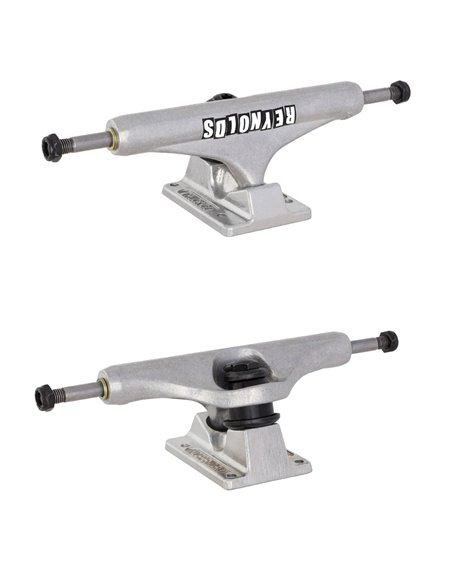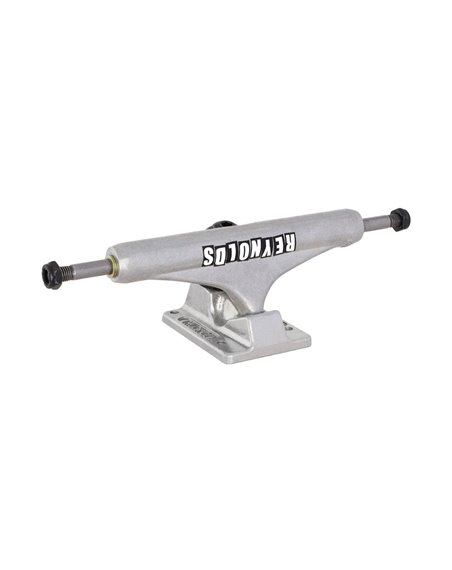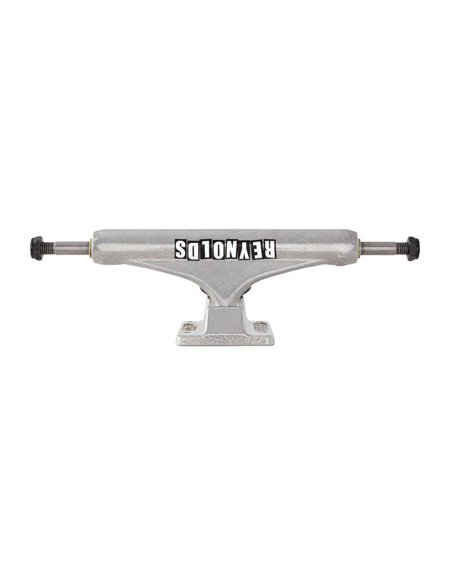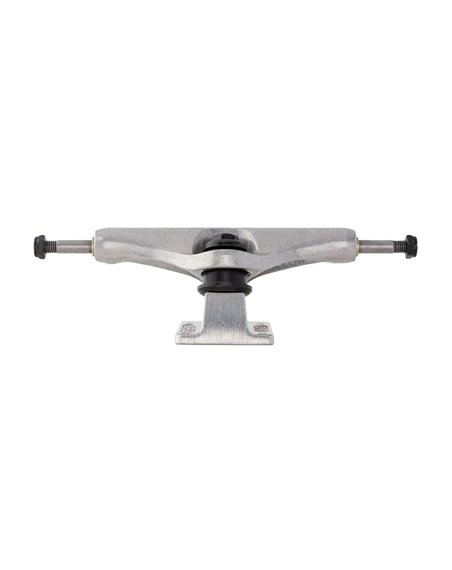 MiD Hollow Reynolds Block 144mm Skateboard Trucks pack of 2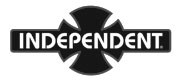 Independent - Skateboard Trucks, model MiD Hollow Reynolds Block 144mm, colour Polished (pack of 2)
Independent MiD Hollow (Reynolds Block) 144mm Polished Silver skateboard trucks
Discover the MiD Hollow Reynolds Block 144mm skateboard truck by Independent and get ready to experience unparalleled skateboarding. This truck offers an exceptional combination of style and performance, designed for skaters who demand the best from their board.
With its sleek silver finish and Reynolds 2 logo print, the MiD Hollow Reynolds Block truck will catch everyone's attention. The black bolts and cushions complete the look, adding a touch of elegance and aggression to your skateboard.
But it's not just about aesthetics. The MiD truck features a low-profile hanger that ensures maximum contact on the nose and tail of your board, perfect for executing flip tricks, grinding on edges, and all-around street skating. Recommended for wheels up to 53mm, it will enable you to push your limits with ease.
The absolute innovation is Independent's inverted kingpin, designed to withstand any impact. You can use it with either a 5.5mm Allen key or a standard 9/16" hex wrench. The Shaft Nut flanged nut, inserted in the baseplate, eliminates the lateral movements typically found in many inverted kingpin designs and increases adjustability, providing you with exceptional control over your skate.
The MiD truck stands at 52mm tall and is built on Independent's legendary geometry, with full-size cushions for maximum maneuverability.
Made from A356 T6 aluminum alloy, heat-treated to achieve maximum strength, the truck boasts exceptional durability, lightness, and an unmatched grinding feel. The hollow chromoly steel axle offers the utmost durability and weight savings, allowing you to achieve peak performance during your skate sessions.
Don't miss the opportunity to own a truck designed for grinding and guaranteed for life by Independent. Buy the MiD Hollow Reynolds Block 144mm skateboard truck now and get ready to dominate the streets with style and confidence. Available at Xtreme Skate Shop, the go-to store for passionate skaters.
SPECIFICATIONS:
- Hanger width: 5.65";
- Axle Width: 8.25";
- Deck width: 8.20" - 8.375";
- Truck type: Inverted kingpin, Standard hanger;
- Bushings: 90A;
- Truck Profile Height: 52mm;
- Material: Chromoly Steel, Aluminium, A356 T6 Aluminum Hanger;
- Mounting bolts: Not included;
- Weight: 386g;
- Pieces per pack: 2;

Manufacturer Part Number: 33132473
Colour

Polished

Colour map

Silver

Model name

MiD Hollow Reynolds Block 144mm

Sport

Skateboarding

Axle width

8.25"

Truck profile height (mm)

52 mm

Truck height

Mid

Truck technologie/construction

Hollow Axle

Truck type

Inverted kingpin
Standard hanger

Pro Skater

Andrew Reynolds

Product Type

Sports

Shipping label

Backpack package
FREE DELIVERY IN EUROPE (EU) ON ALL ORDERS ABOVE 300,00 EUROS
The amount of shipping costs is reflected in the cart, and it changes as you add or remove products. If you are not registered on the web site, shipping costs are calculated based on a standard shipment in Italy. We recommend that users create an account with their delivery address, to see the final prices of both the products and the shipping costs.
Orders placed before 12:00 a.m. (UTC +1) and containing products in stock, are shipped the same day. We will provide you with a link to track your package online.
Delivery times depend on the delivery area and may vary depending on the carrier chosen.
For more details see Shipping costs and delivery times.
INFORMATION ABOUT RETURNS AND REFUNDS
If you don't love it, return it.
You can return any purchased product within 30 days of delivery.
For more information click here to head to our Returns Page.