Stage XI Standard 144mm Skateboard Trucks pack of 2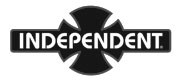 Independent - Skateboard Trucks, model Stage XI Standard 144mm, colour Polished (pack of 2)
Independent - Skateboard Trucks model Stage XI 144mm, color Polished
Durable all purpose truck for any type of skateboarding.
55mm tall for optimal performance and wheel clearance with wheels 56mm and under.
A356 T6 Aluminum Hanger & Baseplate.
The best lightweight aluminum alloy heat treated to T6 condition for strength, durability, and grind feel.
SCM435 Chromoly Steel Axle.
Highest quality and durability available.
Grade 8 Kingpin
Never break, never bend.
159 and 169 models feature 6 hole universal baseplate with old and new school mounting pattern.
Independent Trucks are Built to Grind and Guaranteed for Life.
SPECIFICATIONS:
- Hanger width: 5.65";
- Axle Width: 8.25";
- Deck width: 8.20" - 8.375";
- Truck type: Standard kingpin, Standard hanger;
- Bushings: 90A;
- Truck Profile Height: 55mm;
- Material: Chromoly Steel 4130, Aluminium;
- Mounting bolts: Not included;

Product code: 33131982
Colour

Polished

Colour map

Silver

Model name

Stage XI Standard

Sport

Skateboarding

Truck type

Standard kingpin, Standard hanger

Truck height

High

Truck Profile Height (mm)

55mm

Axle truck

8.25"

Product Type

Sports

Shipping label

Backpack package
FREE DELIVERY IN EUROPE (EU) ON ALL ORDERS ABOVE 300,00 EUROS
The amount of shipping costs is reflected in the cart, and it changes as you add or remove products. If you are not registered on the web site, shipping costs are calculated based on a standard shipment in Italy. We recommend that users create an account with their delivery address, to see the final prices of both the products and the shipping costs.
Orders placed before 12:00 a.m. (UTC +1) and containing products in stock, are shipped the same day. We will provide you with a link to track your package online.
Delivery times depend on the delivery area and may vary depending on the carrier chosen.
For more details see Shipping costs and delivery times.
INFORMATION ABOUT RETURNS AND REFUNDS
If you don't love it, return it.
You can return any purchased product within 30 days of delivery.
For more information click here to head to our Returns Page.