Kendall End of the World Reissue 10" Skateboard Deck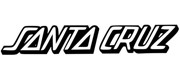 Santa Cruz - Skateboard Deck, model Kendall End of the World Reissue, colour Black
Kendall End of the World Reissue Santa Cruz Skateboard Deck - 10.00" x 29.70"
Step into action with the legendary Kendall End of the World Reissue skateboard deck by Santa Cruz!
This skateboard is an authentic piece of history, paying tribute to the legendary pro skater Jeff Kendall and the renowned brand Santa Cruz Skateboards. Get ready for an experience that will take you beyond boundaries!
The Santa Cruz Skateboards Kendall End of the World Reissue deck features a captivating spot matte graphic that adds a unique touch to your style. Each deck is individually crafted using epoxy resin and 7 plies of North American maple, ensuring a durable and responsive board that will accompany you in every trick.
Enjoy long-lasting pop that will send you soaring and consistent concave that gives you perfect control over every move. With its sharp kick, you'll always be ready to push your limits and reach new heights in the world of skateboarding.
This board is more than just a ride; it's an expression of style and personality. Join the community of Jeff Kendall and Santa Cruz Skateboards fans and let your unique identity shine on the board.
Grab the Santa Cruz Kendall End of the World Reissue skateboard deck now and discover the pleasure of living the action and freedom that only skateboarding can offer. Be bold, be authentic, be legendary!
SPECIFICATIONS:
- Deck material: North American Maple;
- Deck construction: 7-ply;
- Additional materials: Epoxy;
- Deck features: Kicktail;
- Deck Width: 10.00";
- Deck Length: 29.70";
- Deck Wheelbase: 15.00";
- Deck Tail: 6.6125";
- Nose Length: 3.90";
- Grip tape: Not included;

Product code: 11116622
Colour

Black

Colour map

Black

Model name

Kendall End of the World Reissue

Model year

2022

Material composition

maple

Sport

Skateboarding

Material type

Wood

Deck shape

Old School Pool / Bowl Deck

Deck construction

7-ply

Deck width

10.00"

Deck length

29.70"

Nose Length

3.90"

Tail Length

6.6125"

Wheelbase

15.00"

Concave

High

Printing technique

Heat Transfer

Pro Skater

Jeff Kendall

Product Type

Sports

Shipping label

Deck Package
FREE DELIVERY IN EUROPE (EU) ON ALL ORDERS ABOVE 300,00 EUROS
The amount of shipping costs is reflected in the cart, and it changes as you add or remove products. If you are not registered on the web site, shipping costs are calculated based on a standard shipment in Italy. We recommend that users create an account with their delivery address, to see the final prices of both the products and the shipping costs.
Orders placed before 12:00 a.m. (UTC +1) and containing products in stock, are shipped the same day. We will provide you with a link to track your package online.
Delivery times depend on the delivery area and may vary depending on the carrier chosen.
For more details see Shipping costs and delivery times.
INFORMATION ABOUT RETURNS AND REFUNDS
If you don't love it, return it.
You can return any purchased product within 30 days of delivery.
For more information click here to head to our Returns Page.