Kendall Friend of the World Reissue 10" Skateboard Deck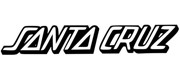 Santa Cruz - Skateboard Deck, model Kendall Friend of the World Reissue, colour Black
Jeff Kendall Friend of the World Reissue Santa Cruz Skateboard Deck - 10.00" x 29.70"
Enter the world of skateboarding with the Kendall Friend of the World Reissue skateboard deck by Santa Cruz!
This deck is a true work of art with a design reimagined by Jeremy Fish (@mrjeremyfish), inspired by the original artwork by Jim Phillips, featuring a stunning matte graphic. On the decktop, you'll find the laser-etched 50th-anniversary logo, a mark of quality and authenticity that only Santa Cruz Skateboards can offer.
Made with individually pressed 7-ply North American Maple using epoxy resin, this deck provides a solid, responsive platform with long-lasting pop. The consistent concave and kick allow you to perform tricks with ease and control, delivering exceptional performance.
But the unique features of this deck go beyond that. The Cruz Missile II concave is Santa Cruz's infamous technical concave from the 1980s, characterized by aggressive, multi-dimensional side-to-side concave and tail kick, along with a forward-set rocker that comfortably locks your feet in key areas for a completely unique riding experience. Perfect for cruising the streets or transitioning on old school or shaped decks with a longer tail than nose.
The Kendall Friend of the World Reissue skateboard deck is not just a status symbol, but a true tool for passionate riders. Inspired by Jeff Kendall and the legendary Santa Cruz Skateboards, this deck offers maximum fun on your skateboard and the opportunity to express your unique style.
Step into the Xtreme world of skateboarding with the Kendall Friend of the World Reissue deck from Santa Cruz. Buy now and become part of the most daring and adventurous skateboarding family!
SPECIFICATIONS:
- Type of board: Old school;
- Deck material: North American Maple;
- Deck construction: 7-ply;
- Additional materials: Epoxy;
- Deck features: Kicktail;
- Deck Width: 10.00";
- Deck Length: 29.70";
- Deck Concave: Cruise Missile II;
- Deck Wheelbase: 15.00";
- Deck Tail: 6.6125";
- Nose Length: 3.90";
- Grip tape: Not included;

Product code: 11117000
Colour

Black

Colour map

Black

Model name

Kendall Friend of the World Reissue

Model year

2023

Material composition

Acero nord americano

Sport

Skateboarding

Material type

Wood

Deck shape

Old School Pool / Bowl Deck

Deck construction

7-ply

Deck width

10.00"

Deck length

29.70"

Nose Length

3.90"

Tail Length

6.6125"

Wheelbase

15.00"

Concave

High

Printing technique

Heat Transfer

Pro Skater

Jeff Kendall

Product Type

Sports

Shipping label

Deck Package
FREE DELIVERY IN EUROPE (EU) ON ALL ORDERS ABOVE 300,00 EUROS
The amount of shipping costs is reflected in the cart, and it changes as you add or remove products. If you are not registered on the web site, shipping costs are calculated based on a standard shipment in Italy. We recommend that users create an account with their delivery address, to see the final prices of both the products and the shipping costs.
Orders placed before 12:00 a.m. (UTC +1) and containing products in stock, are shipped the same day. We will provide you with a link to track your package online.
Delivery times depend on the delivery area and may vary depending on the carrier chosen.
For more details see Shipping costs and delivery times.
INFORMATION ABOUT RETURNS AND REFUNDS
If you don't love it, return it.
You can return any purchased product within 30 days of delivery.
For more information click here to head to our Returns Page.