Street Creep Reissue 10" Skateboard Deck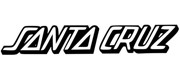 Santa Cruz - Skateboard Deck, model Street Creep Reissue, colour Grey
Street Creep Reissue Santa Cruz Skateboard Deck - 10.00" x 31.75"
Enter the world of skateboarding with style and personality with the Street Creep Reissue skateboard deck from Santa Cruz!
This limited edition deck features a unique matte finish graphic that will set you apart from other skaters. On the decktop, you'll find the laser-etched 50th-anniversary logo, an exclusive detail that testifies to the quality and history of Santa Cruz Skateboards.
The Street Creep Reissue is crafted with 7 plies of individually pressed North American maple using epoxy, ensuring a solid, responsive deck with long-lasting pop and consistent concave and kick.
But the distinctive features of this deck go beyond that. The Old School concave design is a nod to the past, offering a comfortable side-to-side concave and a continuous kick tail. This combination allows for easy foot placement on cruisers, shaped boards, and older models with a longer tail than nose. Feel the nostalgia and enjoy the unique style that only Santa Cruz can offer.
By purchasing the Street Creep Reissue, you not only get a one-of-a-kind piece but also become part of the large family of Santa Cruz Skateboards fans. Show your love for the legendary brand and experience the thrill of skateboarding to the fullest.
Choose the Santa Cruz Street Creep Reissue and become a true standout on the streets and in skateparks. Express your personality, surpass your limits, and let your unique style shine. Be bold, be Xtreme!
SPECIFICATIONS:
- Type of board: Old school;
- Deck material: North American Maple;
- Deck construction: 7-ply;
- Additional materials: Epoxy;
- Deck features: Kicktail;
- Deck Width: 10.00";
- Deck Length: 31.75";
- Deck Concave: Reissue;
- Deck Wheelbase: 15.50";
- Deck Tail: 6.7216";
- Nose Length: 5.3222";
- Grip tape: Not included;

Product code: 11117001
Colour

Grey

Colour map

Grey

Model name

Street Creep Reissue

Model year

2023

Material composition

Acero nord americano

Sport

Skateboarding

Material type

Wood

Deck shape

Old School Pool / Bowl Deck

Deck construction

7-ply

Deck width

10.00"

Deck length

31.75"

Nose Length

5.3222"

Tail Length

6.7216"

Wheelbase

15.50"

Concave

Low

Printing technique

Heat Transfer

Product Type

Sports

Shipping label

Deck Package
FREE DELIVERY IN EUROPE (EU) ON ALL ORDERS ABOVE 300,00 EUROS
The amount of shipping costs is reflected in the cart, and it changes as you add or remove products. If you are not registered on the web site, shipping costs are calculated based on a standard shipment in Italy. We recommend that users create an account with their delivery address, to see the final prices of both the products and the shipping costs.
Orders placed before 12:00 a.m. (UTC +1) and containing products in stock, are shipped the same day. We will provide you with a link to track your package online.
Delivery times depend on the delivery area and may vary depending on the carrier chosen.
For more details see Shipping costs and delivery times.
INFORMATION ABOUT RETURNS AND REFUNDS
If you don't love it, return it.
You can return any purchased product within 30 days of delivery.
For more information click here to head to our Returns Page.